Working from home is here to stay. As we head into a new corporate era, where business leaders are swapping the office for a virtual alternative, cross-team communication has never been so important.
As the post-pandemic e-commerce market surges and a new startup generation of entrepreneurs battle it out across the online sphere, prioritising cross-team efficiency is the key to success. The question is, what can remote-based businesses do to ensure that they come out on top during the new WFH era?
Is WFH Here To Stay In 2022?
While the corporate sector may be about to see the light at the end of the pandemic's tunnel, it's clear that Covid-19 has had some lasting effects on global business practices. From new WFH trends to corporate technological developments, it's clear that the future is digital.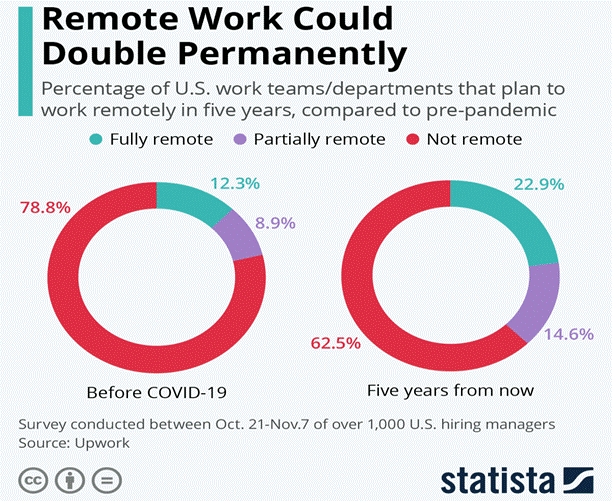 (Image Source: Statista)
In fact, new data from Statista predicts that remote work could double permanently in the wake of Covid-19. As working patterns change, freelancing and the gig economy has thrived amongst the pandemic's pressures. Coming out of the other side, 23% of corporate businesses are planning to stay remote for the foreseeable future.
It's no surprise that a rise in WFH success has kickstarted a start-up generation. As e-commerce booms and social media platforms remain the best source of advertising success, new business leaders on the block can easily throw their hat into the digital mix. Starting up a WFH company post-pandemic is a great way to reduce in house business costs and see a high return on investment is a completely digital playing field.
However, for new entrepreneurs, industry giants have become their greatest competition in the digital arena. If business leaders want to see success on a remote scale, it's time to start prioritising their greatest weapon in the battle for post-pandemic victory. Their team.
The Importance Of Cross Team Communication
Ensuring cross-team efficiency will provide business leaders with an effective success strategy as they continue to encounter post-pandemic competition. Your team is your tool in business success, and string lines of communication should be prioritised in both an office and remote setting.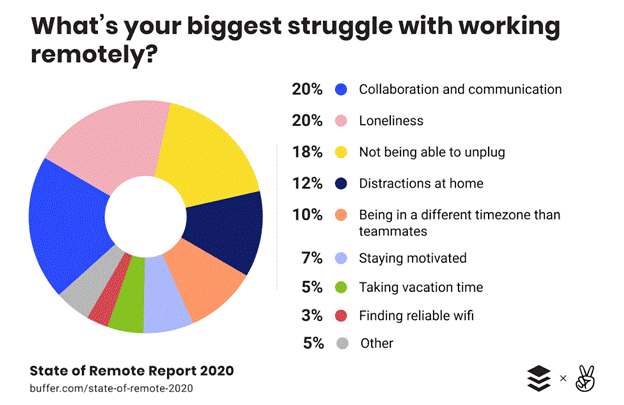 (Image Source: Plutio)
As you can see above, a recent survey by Buffer found that 20% of remote employees claim that collaboration and communication is their biggest vice when working from home.
The impacts of low levels of remote communication can have a significant effect on both the employees' and the employer's success. In fact, experts suggest that a lack of digital sociability can affect employee motivation, mental health and efficiency, all causes of absenteeism and reduced value production.
A new study by LCP sums up these effects, claiming that 3 in 5 remote workers are currently worried about their mental wellbeing in response to a lack of WFH communication.
The importance of cross-team communication is vital as we step into the future of a remote corporate sector. Connected teams demonstrate a 21% increase in profitability. Ensuring strong lines of communication enables remote team members to collaborate when working, and business leaders to give fast feedback for a cost-effective turnaround.
How To Improve Your Cross-Team Communication Skills For WFH Success
In order to see prosperity amongst a remote playing field, entrepreneurs need to target the core of their business strategy. It's time to strip down that advertising budget and refocus your attention on your workforce.
From introducing digital communication tools to prioritising remote staff wellbeing, here are three simple steps you can take to improve your cross-team communication during the WFH era.
Introduce Digital Communication Tools
Did you know that digital communication tools improve WFH productivity by 33%?
Utilising remote digital aids such as real-time chat software and immersive training tools can significantly improve the WFH experience. Implementing cross-communication channels such as Slack and Zoom allows remote employees to communicate with each other in real-time, enabling fast-paced collaboration and boosting productivity amongst the team.
Is Virtual Reality The Future?
Company leaders with larger budgets are also investing in new forms of immersive communication such as AR/VR technology. Using virtual reality to mimic the office experience, employers are able to enhance all areas of the workplace. From virtual meetings to immersive training, AR/VR aids can speed up the onboarding process and provide practical solutions to employee problems.
As cross-company digitalisation becomes a priority for business leaders looking to stay in the online game, only 3 in 10 remote employees believe that they have the appropriate equipment to assist their WFH routine. Investing in digital aids is tipped to be the key to success as WFH prevails, so it's time to start following those technological trends.
Prioritise WFH Wellbeing
WFH wellbeing has become a mental health epidemic. As a result of a lack of human interaction, the number of remote employees experiencing bouts of loneliness and depression is on the rise according to a recent Health Shield Study.
Prioritising cross-team communication significantly improves employee wellbeing. Investing in workplace wellbeing schemes that focus on strengthening your team's relationship will provide you with an efficient value production force.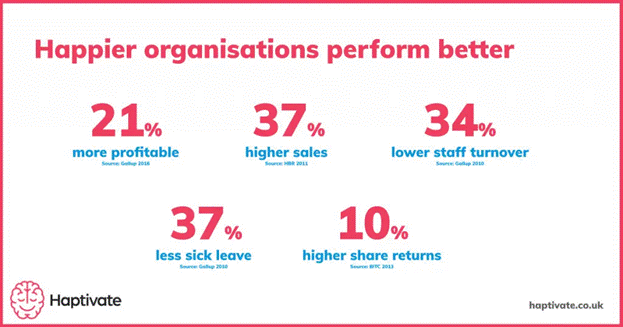 (Image Source: Haptivate)
If you don't believe us, look at these figures. Happier organisations have a 34% lower staff turnover and are 21% more profitable than unconnected workforces.
Why not introduce regular wellbeing workshops for remote employees. Letting your workforce know that they are supported in a WFH environment is likely to reduce stigmas associated with mental health, and build stronger team morale.
Transform Your Virtual HR Department
The key to success in any communication strategy is your HR team. Human resources should play a vital role in your company, especially if you're remote. Implementing a fast-tracked line of communication between your HR team and your employees is an easy way to ensure that your co-workers have an outlet for both professional and personal problems.
A workforce that feels both supported and listened to is more likely to perform efficiently and speak up when something is wrong. Using your HR team to take feedback from your employees is a great way to ensure that top to bottom communication is running swiftly.
Embracing the wonders of modern technology, remote HR has undergone a digital transformation. From augmented training to video meetings and virtual workshops, employing a strong support system for your employees will only build on your business success.