Business transparency has become the key to success for company leaders in 2022. On the back of a post-pandemic e-commerce boom, a new digitally charged audience and a global call for sustainability, active consumers now expect e-commerce giants to be upfront about their actions and put their money where their mouth is.
In the wake of COP26 calling for a global net zero by 2050, a number of entrepreneurs have incorporated transparency within their strategies. From improving their authentic content to being open about their production process, a large number of corporate companies are putting transparency first.
However, corporate giants still have issues to address as we move further into 2022. In a recent Changing Markets Foundation study, researchers found that 60% of all sustainable claims made by some of the globe's leading e-commerce brands are still misleading.
As ASOS and H&M top the list with a hefty 96% of all green claims revealed to be false, consumers are calling for an authentic future from leading retailers.
Benefits of Transparency
Transparency isn't only a vital component of a business strategy in 2022, but could also be the key to start-up success.
It's no secret that an active Gen Z/Milennial audience expects more of a business to consumer relationship. The digital demographic of today is willing to pay more for personalisation, sustainability and most importantly authenticity.
In fact, 73% of modern consumers are willing to pay out for a product or service that offers increased transparency and a further 33% are willing to choose authentic start-ups over established competitors.
In an e-commerce environment that has grown by a third since 2020, competition is at an all-time high. Entrepreneurs who prioritise transparency are more likely to see retention success, and a larger return on investment when putting aside a budget for sustainable initiatives, authentic content strategies and transparent reporting.
As we delve into the numerous benefits of a transparent strategy, here are three steps business leaders can take to improve their own authenticity at little or no cost for an engagement payoff they won't want to ignore.
1.   Sell Sustainability
Conscious consumerism is on the rise. It's no secret that consumers are willing to pay a higher price for a sustainable service. In fact, in 2014, over half of the global population was willing to give their money to socially responsible companies and that number has only risen since.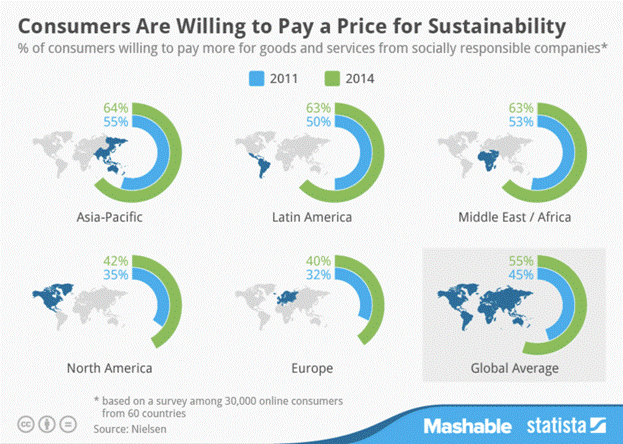 (Image Source: Statista)
For company leaders who want to see their conversions climbing, selling sustainability is the way to go.
The key here is to strip the company down to its foundation and start introducing eco-friendly initiatives into your strategic planning. From product design to the manufacturing process to shipping and packaging, all aspects of the product journey need to go green if you want to authentically sell sustainability.
Once these steps have been implemented it's time to sell them to your consumers. Start talking about your sustainable journey across your socials and especially on your landing pages. Display stats, sustainable progression and further initiatives in the works that are likely to attract an eco-charged demographic.
2.   Get to Know Your Consumers
In any business strategy, consumer insights are the key to success. Knowing your demographic inside and out will leave you in a much better position when it comes to campaign planning, customer targeting and of course transparency reporting.
While it is important to be transparent about all business practices, knowing what your customers are expecting makes it much easier to display the facts that matter.
For example, if your consumer niche cares about sustainable packaging, advertise how your company aim to supply biodegradable products. Or, alternatively, if your consumers care about fast fashion, tell them why your manufacturing process is waste free.
54% of customers expect all their needs to be met when interacting with a brand. Knowing what makes them tick and what makes them click is a gateway to triumph.
3.   Create Authentic Content
Social media marketing has become a crucial part of branding strategy post-pandemic. With over 4.62 billion active social media users, platform engagement is one of the most successful sources of sales leads.
If a consumer can connect with your platform content, they are more likely to follow the link to your site and engage with your products/services.
However, as social media marketing evolves, so does the digital native consumer. Active online users of today are able to quickly research your claims and will not hesitate to call your content out if it embellishes the truth. In order to remain authoritative within your niche, your content needs to be both consumer catching and authentic for continued growth.